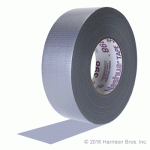 This is the time of year when power companies (at least the responsible ones) help their customers with tips on keeping their homes warm.
Some are simple and almost free.  Others will cost you something, but you can easily recoup those costs with energy savings, especially if they can be used for more than one year.
One simple one is a "draft stopper" which involves wrapping up a towel with duct tape and pushing it against the bottom of an exterior door.  The expansion of the towel into the opening fills the draft space and the coating on the duct tape almost completely stops the air flow.
Click here for some more tips.  (Thank you WKBN News).
GoodBuyguys.com
Harrison Bros.com
47 N. Chatham Pkwy.
Chapel Hill, NC 27517
Voice   800-327-4414
Local   919-968-6651
Fax   800-327-6651
Email   sales@harrisonbros.com