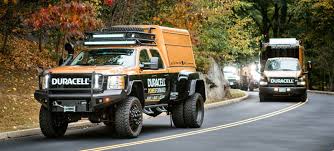 As is often the case in natural disasters, this week's devastating tornadoes in central Tennessee has brought chaos to the power system.
Since 2011, Duracell has operated a fleet of specialty vehicles designed to provide temporary power sources for those in need.
These vehicles provide emergency lighting, power for recharging electrical devices and backup power sources for communication systems.
Perhaps most importantly, they distribute batteries to residences and businesses that need a portable power source to get back up and running.
Duracell continues to grow their fleet of Power Forward vehicles, adapting them to the ever-changing needs being met by new battery technology.
You can learn more about the Power Forward fleet by clicking here.
GoodBuyguys.com
Harrison Bros.com
47 N. Chatham Pkwy.
Chapel Hill, NC 27517
Voice 800-327-4414
Local 919-968-6651
Fax 800-327-6651
Email sales@harrisonbros.com