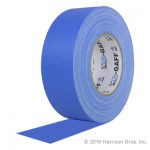 Touch ups on trade show booths  or on a video set with spray paint can't be done onsite, since the use of aerosol sprays isn't allowed on most show floors.  It can get messy quickly and even damage other show material
Booths and displays in high traffic areas get dinged and bumped into and it can be a challenge to keep things looking fresh, particularly when a show runs for several days.
Cameras and audiences can quickly be distracted by a shop worn or damaged set piece is in plain view.
Quick color matched repairs can be achieved with colored gaffers tape and nothing is released into the air when you do it.
Here is a link to gaffers tape in over  19 different colors and four different widths.
GoodBuyguys.com
Harrison Bros.com
47 N. Chatham Pkwy.
Chapel Hill, NC 27517
Voice   800-327-4414
Local   919-968-6651
Fax   800-327-6651
Email   sales@harrisonbros.com